Sort by

Title A-Z

Title Z-A
10 per page

5 per page

15 per page

View All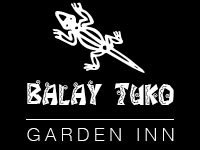 Balay Tuko Garden Inn
Claim Listing
Balay Tuko Garden Inn is a Bed & Breakfast establishment with affordable accommodation located in Barangay San Manuel, Puerto Princesa City, Palawan.
Category : Bed and Breakfast
Read more.
The main building has 15 rooms and is located 50 meters from the road. The Indoor swimming pool is also 40 meters away from it, so it is absolutely quiet when you are sleeping in the room. Behind the building, we have a 10 feet wall around the building & security guard from 10:00pm till 06:00 am. The swimming pool is open to public but its access is depending also of our rate of occupancy as our guests have priority.
Website:
balaytukogardeninn.com
Address:
San Manuel Rd., 5300 Puerto Princesa City, Puerto Princesa, Philippines
Mobile:
0917 551 0971
Email:
balaytuko@gmail.com
Social Media:
Recommend:
Hide this content.
Sort by

Title A-Z

Title Z-A
10 per page

5 per page

15 per page

View All